---
Director: Abhijit Guha , Sudeshna Ray
Music: Neel Dutt
Cast
Abir Chatterjee
Ritwick Chakraborty
Rimjhim Mitra
Payel Sarkar
Biswajit Chakraborty
Saswata Chattopadhyay
Kamalika Bandyopadhyay
Surajit Banerjee
Sudeshna Ray
This is a love story with the modern gen X in mind. There is romance, there is cynicism, ambition and love. Above all there is comedy and a touch of sex without which no love story is complete.
Cross connection deals with Imon's three loves, Aakash's three loves and Piya's switches and Vicky's intentions.
This is a love story where egos clash to raise a laugh.
Imon: A sexy young thing in love with her muse and all the men around her.
But who or what does she love most?
Akaash: Loves poetry, beer and good looking girls not quite in that order. But the order keeps changing as his moods demand.
Vicky: Loves pretty young things, which man doesn't? But he loves driving more especially if a sexy young thing sits next to him. And he has no dearth of getting them 'cos he is tall, dark and handsome, on top of it has the right qualifications and job.
Piya: Pretty Piya is quite a dreamy number. Boys love her, men lust after her, but who will finally get her?
Cross Connection deals with follies of youth, where landladies' are the greatest fears in life.
The film has comedy, romance and love. Along with it Neel Dutt's peppy music. Anjan Dutt, Rupankar, Ujjaini and some fresh new voices have sung the 6 numbers. The lyrics are by Anjan Dutt, Chandril, Anindya(Chandrabindu), Sumit Samaddar and Srijit.

Screen Shots:
| | |
| --- | --- |
| | This image has been resized. Click this bar to view the full image. The original image is sized 1024x838. |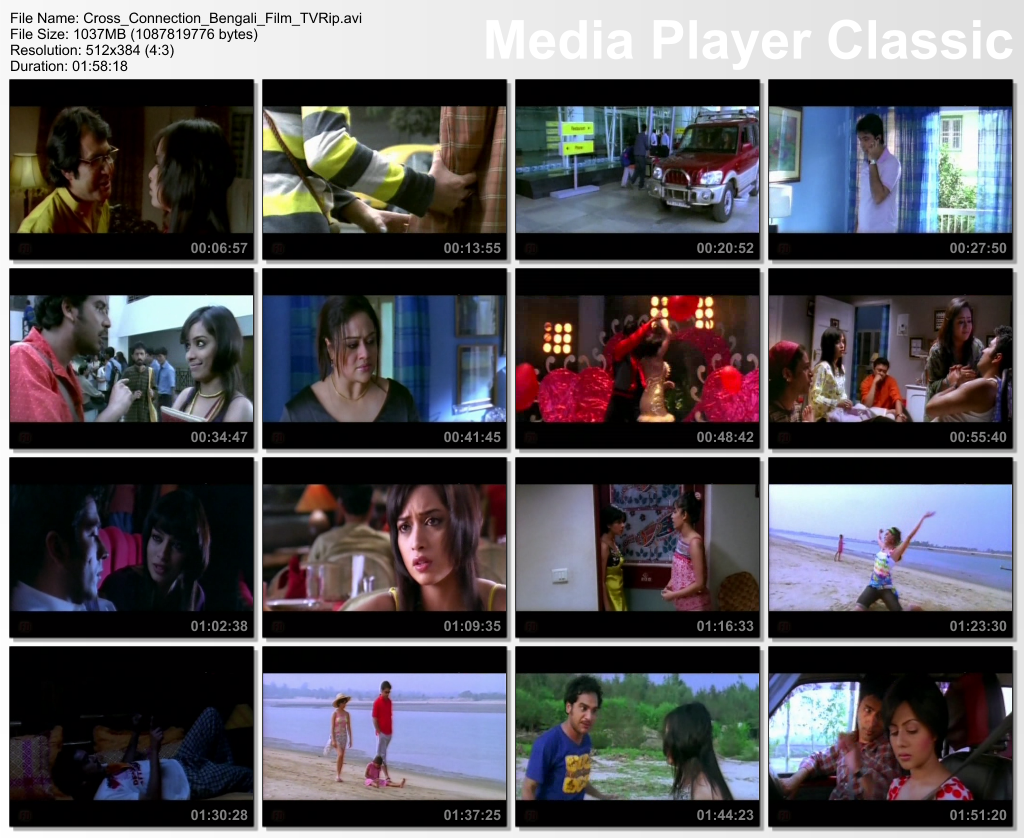 Caution: First 5 mins there is some Audio ProblemDownload:
Code:
http://rapidshare.com/files/277453942/Cross_Connection_Bengali_Film_TVRip.avi.001
http://rapidshare.com/files/277454832/Cross_Connection_Bengali_Film_TVRip.avi.002
http://rapidshare.com/files/277453982/Cross_Connection_Bengali_Film_TVRip.avi.003
http://rapidshare.com/files/277454001/Cross_Connection_Bengali_Film_TVRip.avi.004
http://rapidshare.com/files/277454851/Cross_Connection_Bengali_Film_TVRip.avi.005
http://rapidshare.com/files/277453996/Cross_Connection_Bengali_Film_TVRip.avi.006
http://rapidshare.com/files/277454775/Cross_Connection_Bengali_Film_TVRip.avi.007
http://rapidshare.com/files/277453914/Cross_Connection_Bengali_Film_TVRip.avi.008
http://rapidshare.com/files/277454812/Cross_Connection_Bengali_Film_TVRip.avi.009
http://rapidshare.com/files/277457238/Cross_Connection_Bengali_Film_TVRip.avi.010
http://rapidshare.com/files/277456112/Cross_Connection_Bengali_Film_TVRip.avi.011
After Download you need to join this file with HJsplit Software
Code:
http://rapidshare.com/files/57650495/hjsplit.zip
Mediafire links
Code:
http://www.mediafire.com/file/udvjyjo1nn2
http://www.mediafire.com/file/mx2nnjwdzyk
http://www.mediafire.com/file/otzmzmgyx42
http://www.mediafire.com/file/tv3x2lwcqcm
http://www.mediafire.com/file/mykzmkzlngj
http://www.mediafire.com/file/zo1zydwoy0r
http://www.mediafire.com/file/xwjqdhimyyz
http://www.mediafire.com/file/nmlrknrzy1k
http://www.mediafire.com/file/bmdzoa1ziyi
http://www.mediafire.com/file/5zwmzmwjjgi
http://www.mediafire.com/file/yidt2oznzoi